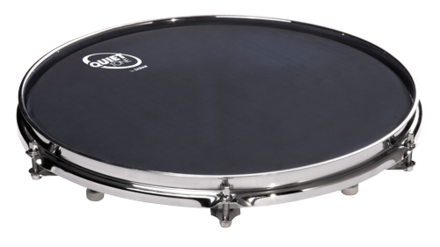 At a glance
Designed with a specially developed mesh head that replicates genuine drum head feel, in a low cost option.  Also available in 14″ (QTM14)
Introducing our newest version of the QTM10 practice pad, now with updated manufacturing details! We've recently made some changes to enhance your drum pad experience. One of the changes we've made is replacing the feet with rubber caps on the tuning lugs. This provides a better grip and stability during your practice sessions
Please note that while we have updated our manufacturing process to include these new features, some of the older versions are still in circulation with dealers. This means that when purchasing our product, you may receive either the newer version with rubber caps on the tuning lugs or the older version with feet. The photo above shows the older version.
Rest assured, both versions of our practice pads are made with the same high-quality materials. Whether you receive the newer or older version, you can count on our practice pad to be durable, reliable, and a valuable addition to your practice routine.
Be the first to leave a review for this product.