Buying With Confidence
North American Warranty
North America: SABIAN B8 and B20 Bronze cymbals are protected by a 2-Year Warranty. Quiet Tone practice cymbals by SABIAN are protected by a 2-Year Warranty. SBr Brass cymbals are protected by a 2-Year Warranty. SABIAN Overture Triangles are guaranteed against defects in workmanship and materials for a period of 1 year from the purchase date of the original triangle. Cymbals replaced under our North American Warranty will be shipped to an address in the U.S. or Canada only.
International Warranty
Warranty laws vary from country to country and are subject to the law of the land. Please check with your local SABIAN distributor for warranty coverage in regions outside of North America.
Warranty Eligibility
Only instruments and products purchased as new from an authorized SABIAN dealer are covered by warranty. SABIAN will replace any instrument proven defective under normal use during the terms of this warranty, subject to appropriate inspection. However, damage resulting from accident, abuse or misuse is not covered by this warranty. Please use the following examples as a guide to cymbals NOT eligible for warranty replacement. Cymbals purchased for rental, backline, rehearsal or recording studio use are not eligible for warranty. If you are unsure whether your instrument qualifies for warranty replacement, please send a photograph to [email protected].
Examples Of Damage Not Eligible For Warranty Replacement

Broken around the center of the cymbal or small cracks around the center hole: caused by the cymbal being tightened down too hard on the cymbal stand.

Missing chunks from around the edge of the cymbal: SABIAN is unable to identify the cause of this type of damage.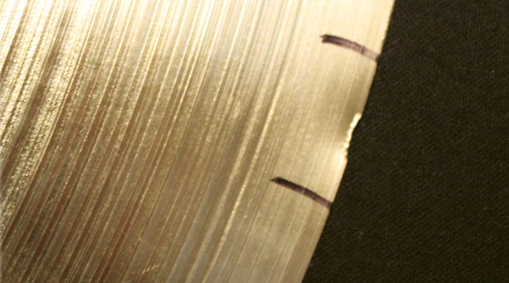 Damage or warped outer edge: shows that a cymbal was dropped or fell over while on stand, and has been damaged by means other than playing.